08.05.2016 | 10:53 am
You may be most familiar with the concept of guide dogs helping the blind. However, in recent years, assistance dogs are being trained to help the deaf, vets suffering with PTSD, and in many other ways. In fact, dogs can aid, comfort and help people with all manner of physical and mental difficulties. Great assistance dogs are made that way through hours of training. Not unlike great athletes, they train for hours daily until they're ready to partner with their human. Then the two of them train together.
Marcie Davis is a paraplegic who's long enjoyed the assistance of her dog Misty.  Dedicated to social justice, Marcie wanted to do something to recognize the importance of these dogs in a larger way. So, she created a week of recognition. The 2nd week of August is International Assistance Dog Week – a chance to raise awareness of the importance of these dogs and the trainers who train them.
In 2016, that week is August 7-13 and it's a time to acknowledge all that these dogs do for the humans they serve. For those who aren't part of this world, you may be surprised at the process.
The Training of an Assistance Dog
It starts when they're puppies. The puppy raiser is an experienced dog handler and commits several hours a week to training the puppy in basic manners – no jumping, sitting, etc.  They'll attend puppy kindergarten and work closely with an organization like Canine Companions for Independence, who will take over the training when the puppy is  14-16 months old. Next, the pup enters a six-nine month training program.
During the first couple weeks the puppy undergoes a battery of health and temperament tests. If the pup passes all the tests, he continues the rigorous training eventually learning over 40 commands. At any point, during the training, if the dog shows signs of stress, the dog may be released and make someone a great pet.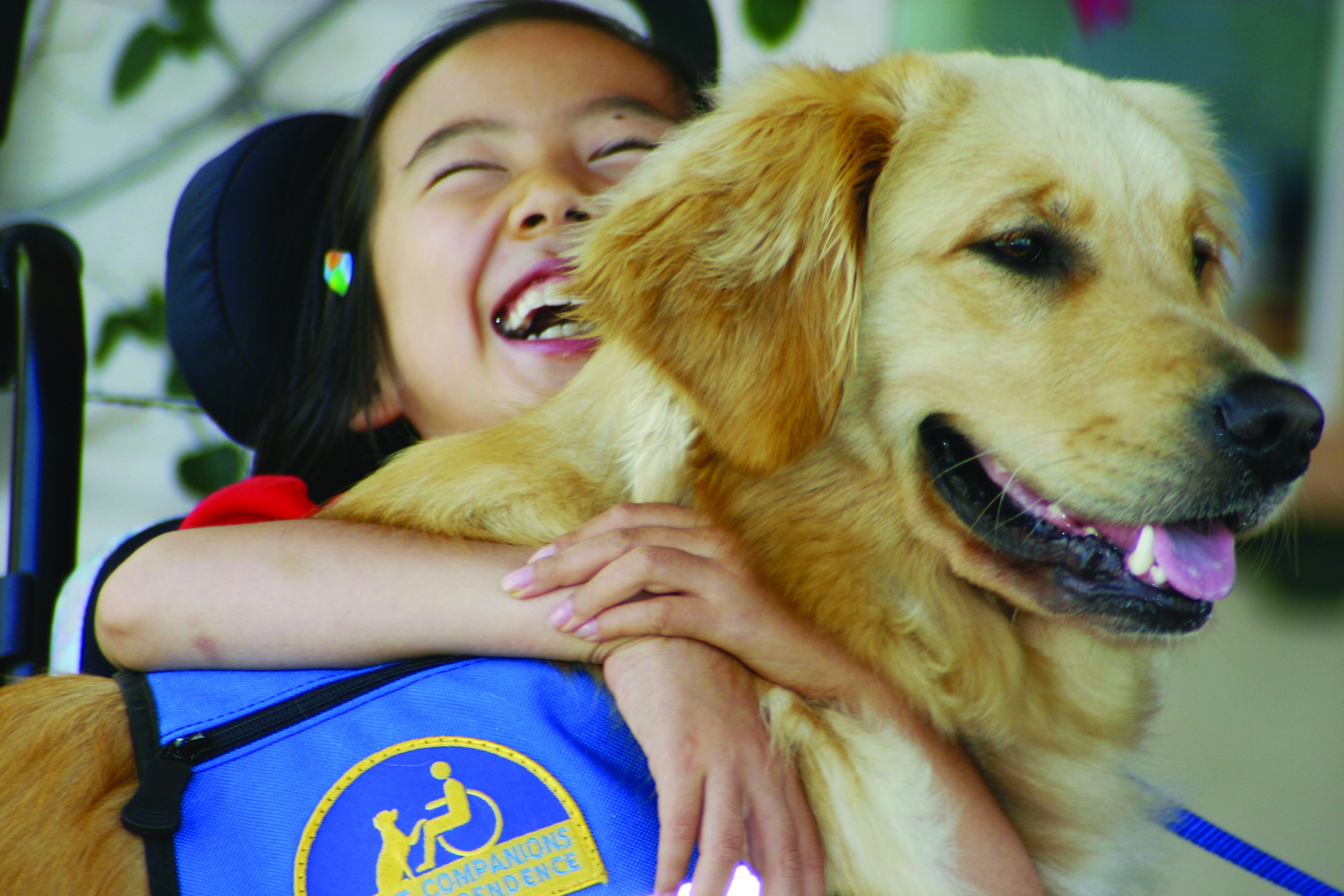 At the end of the program, the dogs are paired with their recipient and the two train together for several weeks. Depending on the need, the dogs may trained to open doors, bring certain items or alert in case of a seizure. After graduation, there are regular check ins and follow up workshops for both dog and human.
Certain breeds often make for good assistance dogs. You're probably familiar with German Shepherds, but labs and even standard poodles can make a good assistance dog.  If you'd like to find out more about assistance dogs and maybe even volunteer to raise a puppy, then you can find out more at Paws with a Cause.
08.03.2016 | 10:34 am
The term "holistic" has grown in popularity over the past years. As a caring pet parent, you may think of it as a healthy way of life. Which it is, in fact, "holistic" is commonly thought of as an approach that treats the mind, body and spirit.
Holistic health looks at the diet, environment and lifestyle to see if there are opportunities to improve upon it. August 30th is National Holistic Pet Day which is a beautiful chance to consider our pet's whole health – from nutrition to any chronic conditions.
When it comes to food and health care, we hope that you consider Holistic Select pet food. Your vet may offer natural approaches to health care such as massage therapy, acupuncture, chiropractic care and other noninvasive medical procedures. These are becoming more common for both people and pets.
4 Ways to Help Your Pet Live a More Holistic Life
Keep Your Pet's Weight Healthy – There remains an epidemic of obese pets and if your pet is one of them, be aware that even a couple of extra pounds can put a lot of stress on Max's body. Many pets will benefit from more frequent walks for multiple reasons – weight control, increased socialization and more bonding time with you.
Practice Doga – If you practice yoga at home, you know that the minute you roll out your mat, your dogs come running. Let them practice with you! In fact, doga (yoga with your dog) classes are popping up in parks around the country. Look for one near you where you can learn how to incorporate Fido into your downward facing dog.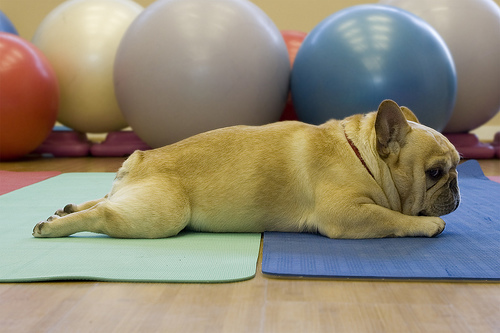 Regular Grooming – While you may rely on your groomer to do the heavy lifting, your pet needs the in between maintenance sessions. Regular brushing removes loose and dead hair and keeps tangles to a minimum. There's another benefit too. If you regularly take a few minutes to run your hands over your pet from nose to tail, you're more apt to notice any unusual lumps. If you find anything, pay attention to it and make an appointment with your vet to make sure it's nothing serious.
Nutrition – Diet and nutrition are at the cornerstone of good health. Holistic Select makes foods filled with good for your pet fruits and veggies including salmon, carrots and blueberries.
National Holistic Pet Day was started by Animal advocate Colleen Paige of Animal Miracle Foundation to raise awareness of this integrative approach which can lead to a longer and healthier life span. How will you celebrate this year?
07.06.2016 | 10:02 am
Unlike humans, pets don't wear socks, shoes, or clothing to protect their skin. Although humans are exposed to the same allergens as their pets, our skin is far more protected and disinfected (because we bathe regularly to remove these allergens). Because pets lack the same protection as humans, allergens tend to cling to their skin and coat. Identifying whether or not your pet has a skin allergy can be difficult to pinpoint. A few indications your pet may be suffering from skin allergies is: scratching and rubbing, skin rashes, skin thickening or color changes, hair loss from biting and chewing, and an unusual odor. All of these symptoms can be caused by environmental allergies which can typically be treated multiple ways. Here are a few tips to help you figure out the best option to help your pet through this rough patch.
Bathing & Grooming:
Do you allow your cat to roam the neighborhood? Have you caught your dog digging holes in the backyard? Pets love to explore and sometimes this includes getting dirty. After your pet enters the home from outside, make sure to wipe down their coat with a damp cloth to remove potential allergens. A bathing routine can be highly effective because this can help to remove allergens that collect on the skin and in the fur. Leave-on conditioners, medicated shampoos, and ointments can help tame the allergens and at the least eliminate the itch.
Clean your home:
How often do you clean your home? This a question pet owners need to answer honestly when faced with pet skin allergens. Maintaining a sterile environment, can keep your pets healthy and happy. Sweep, vacuum, and mop throughout the week and don't forget to wash pet bedding.
Immunotherapy:
Would you consider taking your pet to therapy to help with their skin allergies? If so, immunotherapy may be the solution. Immunotherapy is the process in which a pet undergoes a desensitization period using specific allergens to desensitize a pet to the proteins.
As a responsible pet owner, the health of your pet should be top priority. Addressing issues such as skin allergies can improve the life of your pet substantially. While the treatment of skin allergies is important, so is the food that you feed your pets. Holistic Select is dedicated to providing natural and healthy food to assist your pets in leading a healthy and natural lifestyle. Check out our history of leading in nutritional excellence for pets.
06.17.2016 | 08:25 pm
As the sunshine and warm weather creeps back into our lives, we asked our fans to capture their favorite moments of  pets showcasing their spring spirit. After reviewing hundreds of submissions, the results are in and we're happy to announce a grand prize winner who'll receive a 1-year-supply of Holistic Select Pet Food and 3 runner's-up. Drum roll please…
Spring Spirit Grand Prize Winner
Terra- Sierra Vista, AZ
Runner's-Up
Kodah- Toronto
Cooper- Charlotte, NC
Lola- Fredericksburg, VA
Thank you to all of those who submitted!
05.19.2016 | 10:13 am
In people, food allergy symptoms usually include a tingly sensation and a itching of the throat. For pets, food allergy symptoms include itchy skin, chronic ear infections, and frequent hot spots, as well as the licking and chewing on feet.
If your pet shows any of these symptoms, it's a good time to reevaluate what you're feeding. After all, May is Food Allergy Action month. Your veterinarian can run tests on your pet but it can be tough to pinpoint the exact allergy triggers simply because allergies develop over time. You can feed your pet the same food for years but when you notice him chewing his paws or random hot spots, it's time to take a look at his diet.
What Causes Food Allergies?
Medical professionals say allergies are triggered as a result of the body's immune system going into overdrive. Essentially, your pet eats something that his body "thinks" is a problem and overwhelms the body with chemicals to "fix" it. It's a hypersensitivity to the food source. Proteins like chicken and beef as well as wheat or gluten are common allergens for dogs. These food allergies typically develop over time which is why your pet can be eating the same food for years and then start displaying the symptoms. That makes it tricky for both uncovering the exact trigger as well as treating it.
How to Treat for a Food Allergy
You may have heard of the elimination diet. Just like it sounds, you eliminate everything you can from your pet's diet and try a new food.
For example, you can try a food that includes a protein that your pet has never eaten. These are often called "novel proteins" – Venison, bison and lamb often fall into this category. You may also want to avoid wheat & grains in your pet's food and treats by checking out grain-free recipes. Holistic Select offers grain-free recipes.
Choose a food your pet has never eaten with a different protein source – for example, if your pet usually eats chicken based food, choose salmon. Make sure your pet's treats fit within the new approach as well.
Make sure everyone in the family is on board with this test. If anyone is sneaking your pet treats or people food that's not on the diet, you won't have a pure test.
Allow enough time, it can take 10 – 18 weeks to see a difference
Keep a notebook – times that you feed your pet, any reactions (or not), write it all down.
You may have to try this more than once, each time eliminating a protein source, or a grain or other ingredients you find common. Proteins and wheat are the typical triggers so it makes sense to start there.
If you keep notes about the food you feed, then you'll have an easier time distinguishing if your pet's symptoms improve or worsen.
We hope you find a solution. Check out
Holistic Select's
offerings of dry and wet food that contain different proteins and are available in grain-free options.
04.27.2016 | 08:49 am
World Veterinary Day is celebrated each year on the last Saturday in April. The World Veterinary Association initiated the recognition of this day in the year 2000 in order to bring attention to the many ways that veterinarians contribute to the health of both animals and humans around the world. What has your veterinarian done for you and your four-legged friends lately? Chances are they have done a lot more than you may think. Let's talk about some big reasons why the veterinarians of the world deserve to be celebrated.
6 Reasons to Celebrate Your Veterinarian
They provide quality care for your beloved pet. For many of us, our pets are considered members of our family and just as we would any family member, we expect only the best possible care for our pets. Finding a veterinarian that you love and who provides your pet with the quality care that he deserves is like striking gold!
They remind you about important health screening updates for your pet. Life gets busy sometimes, am I right? It can be difficult to remember when your pet had their last health screening or routine vaccinations, especially when you have multiple pets. A good veterinarian takes on the responsibility of remembering when your pet is due for certain screenings and vaccinations and sends you a reminder when it's time to schedule your pet's next visit. Thank goodness for good veterinarians!
They can help you choose the proper diet for your pet. Pet owners are starting to pay more attention to what they feed their pets (and rightfully so)! Your pet's diet has a huge impact on their overall health and your veterinarian can help you find the diet that will provide optimal nutrition for your pet, helping them to live longer and healthier lives.
You trust them with your pet's life. Let's be honest – how many people can you say this about? When it comes to your pet's health, you pretty much hand the key over to your veterinarian. Obviously, no one knows your pet as well as you do, but when you sense that something is off, your veterinarian is the one who has dedicated themselves to diagnosing and treating the problem at hand. Veterinarians save the lives of our pets every single day!
They have a heart full of compassion for animals.  Us animal lovers have to stick together – wouldn't you agree? Feeling a strong compassion towards animals is likely what inspired your veterinarian to do what they do, and for most veterinarians, their job doesn't stop at treating the pets that come into their office. Many veterinarians also dedicate themselves to animal advocacy all around the globe.
They always have the answers that you need. This is true for all pet owners, but can be especially true for new pet owners. How many times have you had a question about something related to your pet (especially a new pet) and called your veterinarian? There is a reason why people always say 'consult with your veterinarian' before doing certain things – it's because they always have an answer to help you out and ease your mind.
Finding the right veterinarian for you and your pet can prove to be challenging – you don't always find the right fit immediately. So, finding a veterinarian that both you and your pet feel connected to is reason enough to celebrate World Veterinary Day! How are you celebrating this year?
04.22.2016 | 10:41 am
Maybe you consider yourself pretty environmentally friendly. We've heard of pet parents who compost their pet's waste in order to reduce their carbon paw print. If so, kudos to you. Other pet parents would like a few pointers on selecting eco-friendly and pet friendly, landscaping materials.
Where ever you are in your environmental awareness, Earth Day on April 22 is a good opportunity to celebrate the world we live in. Spring has arrived and with it the promise of outdoor activities and a beautiful summer ahead.
So go ahead, participate in one or all 5 of the below ideas to make the world a little better for you and your pets.
7 Ways to Create a Greener Environment for You and Your Pets
Clean Out Your Linen Closet — Those tattered towels and threadbare sheets can provide second life as crate liners for your dog. If you're a crafty sort, you might even rip a towel into several pieces and braid them together for a chew toy for your dog. You've just found a new use for an old item. Still have towels and linens left over? Drop them off at a local animal shelter. They're usually happy to have something soft to put in the kennels.
Skip the Clumping Kitty Litter – Clay litters have two problems, one is that it contains silica which is a known carcinogen. When your cat scratches in the box, she stirs up the litter and fragments of the silica drift about and she breathes it in. You do too. The other concern is that clay mining destroys the land around it and it's dangerous. Eco-friendly litter alternatives include newspaper, pine pellets and litters made of corn or wheat.
Eco-Friendly toys – Skip the toys made of PVC and other questionable materials. It's far better for your pet and the environment to either make chew toys like we mentioned above with old towels or to buy fabric toys – preferably made of organic cotton. That lessens the risk that your dog will ingest dangerous plastic items and the eco-friendly toys will usually last longer.
Buy in Bulk – Larger bags and cans mean less packaging which leads to less waste. As long as you can use the food before it goes stale, it's environmentally friendly to go big.
Eco-Friendly Flea and Tick Prevention – 30 years ago, it was common to take your pet in to the vet for a flea and tick dip where they'd be bathed in a toxic chemical bath designed to kill fleas and ticks. Now, we realize that those toxins get into the bloodstream of our pets and many pet parents reach for a less toxic solution.
Feed High-Quality Food and Treats– If you're reading this, you probably understand the value and benefit of feeding your pet a high quality diet such as Holistic Select. They get better nutrition and you skip worrying about potential contaminated products.
Pet-Friendly Mulch – If you like to spend time gardening, your pets probably accompany you. Depending on their activity levels, they may romp around and chew on things they shouldn't. It's a good idea to make sure you're using pet-safe mulch so you can avoid a trip to the veterinary hospital. Rubber, natural wood, cedar, and leaves are all safe mulch alternatives. Pine needles are ok unless you have an avid chewer as the needles can penetrate the delicate stomach lining. If you have dogs, you'll want to avoid cocoa mulch because it's a derivative of the cocoa plant. This chocolatey smelling mulch has theobromine which is the active ingredient in chocolate that can be toxic to dogs.
Which of these pet friendly earth day (and every day) suggestions will you incorporate into your life this spring and what would you add?
04.11.2016 | 04:48 pm
Chances are good that if you're reading this, you have a pet. Maybe you have a multi-pet household. However, you may not know that April 11 is National Pet Day.  You might be thinking to yourself, "Every day is National Pet Day. My dog or cat is spoiled rotten."  Of course, if you're like a lot of pet parents, you like to do something a little extra special for them at times.
Of course, National Pet Day is really a way to bring attention to the thousands of dogs and cats who fill our shelters around the country. And while it's impossible to adopt every needy animal, you can help remind them that they're not forgotten and shower a little extra love on your own pets.
Here are 5 Ways You Can Celebrate National Pet Day
Spread the Word – Local shelters often post pictures of adoptable pets on social media. If you can share that post with your network, you may help that pet find a forever home that much quicker.
New Toys – Who doesn't like a new toy? You can pick a few toys for the shelter pups. They'll appreciate them. If you have a social dog you can take your pup to the pet store to choose a toy. While there, why not pick up a catnip mouse for the cat in your life?
Give Your Pet a Massage – Everyone likes a massage. It can soothe tired joints and stimulate the circulation. Pets with stiff joints will especially benefit. You can start when your pet is relaxed and lying near you. Just start petting them. To move into massage, use the heel of your hand to rub the larger muscles – shoulders, thighs – you can move your hands briskly and apply a bit more pressure if your pet is enjoying it.
Schedule a Wellness Exam – Has it been awhile since your pet was last at the veterinarian? As your pet's age, it's a good idea to visit your vet every six months. That's enough time in between visits for your veterinarian to notice any changes in your pet yet it's a short enough time to catch anything in the early stages.
Donate – You can't adopt all the worthy pets in the world but you can provide a gift to your local shelter. Maybe you volunteer to walk the dogs, maybe you provide a monetary gift or bags of dog food, whatever you can do, there's a need. Just call your local shelter to find out what their biggest need is.
There you go, 5 ways you can celebrate National Pet Day. How many more can you come up with?
03.23.2016 | 11:46 am
Just saying "National Puppy Day" makes us smile. After all, puppies are fun and cute. Technically, it's a day to encourage adoption started by pet enthusiast Colleen Paige in 2006 and it happens twice a year. March 23rd and August 26th.
Every year, thousands of puppies wind up in shelters for a variety of reasons. There are poor breeding practices practiced by puppy mill breeders, there's an overflow of stray pups due to lack of spaying/neutering and sometimes people have to relinquish their beloved pups due to health and other reasons.
In other words, the shelters are full of wonderful animals looking for their forever homes.  If you're considering a new furry family member, why not look first to your local shelter. Many of them even have pure bred dogs.
March is a great time to adopt a new pup because the days are getting longer and a new pup gives you a great excuse to get out and enjoy the weather.
p://i66.tinypic.com/2iqbcbl.jpg
Ways to Celebrate National Puppy Day
Even if you aren't in a position to adopt a new furry friend, you can still help out by donating pet food, toys, time or cash. Just call your local shelter and ask them what they need most. Every shelter has ongoing needs and occasionally critical needs that the people who are in the trenches will know about.
Another way to celebrate is to spend extra time with your own pup. Go for an extra-long walk or buy him a fun new puppy toy. If your pup needs a little extra training to be a model family member, make an appointment with a dog trainer. You may be amazed at how much your quality of life will improve when you know how to best communicate with your pup.
How will you celebrate National Puppy Day?
03.03.2016 | 12:22 pm
March 20th is the first official day of spring! It's almost as if you can see the clouds parting as visions of frolicking in the sunshine with your pet start to dance in your head. As the sun and warm weather creeps back into our lives, it's time to start thinking of some ways that both you and your pet can start getting your daily dose of Vitamin D. Let's talk about some ways that you and your pet can get outside and enjoy yourselves!
Trips to the Dog Park
A trip to the dog park is a treat for your pet any time of year, but when the sunshine and warm weather make their debut, trips to the dog park become even more enjoyable for both you and your dog! Carve out some time for weekly dog park outings and you will have a happy dog on your hands. Trips to the dog park are also a great way to improve your dog's socialization skills as well as give them proper exercise.
Check out the Local State Park
Research and find a pet friendly State Park in your area and take your pet exploring! Your dog would love to join you as you both explore the nature and trails, and maybe even some creatures. You can explore the state park by foot or bike, or some parks even have trails that you can explore by car. As long as your dog has a window seat, he'll be happy!
Play Frisbee
Pick up a flying disc that is appropriately sized for your dog and visit a large open field. While some training may be in order (look online for training tips), most dogs find this to be an enjoyable activity. It gives them the opportunity to run and chase – two of their favorite things!
Schedule a Backyard Play Date
After being cooped up in the house throughout the winter, your dog probably hasn't had much of an opportunity to play with others. Schedule a play date with a friend who also has a dog. You and your friend can enjoy sitting outside and enjoying each other's company, while your dogs enjoy a backyard romp, which is also a great form of exercise!
Take a Day Trip
A day trip to the beach, mountains, or a nearby dog-friendly lake can be tons of fun. Be sure to stay with your dog at all times. He should be close enough that you can safely retrieve him without putting either of you in danger. Make sure that dogs are allowed and you have the proper permit (if applicable) wherever you decide to go. This is a great way for both you and your dog to enjoy the sunshine and soak up some Vitamin D. Your dog will be snoring the whole way home!
Spring Festivals
Many pet advocacy groups and local animal shelters will host fundraisers, festivals, and other spring events that are fun for both you and your pet. They're a great way to get outside and enjoy the sunshine and meet new friends while supporting a good cause. You may even make a new friend to invite over for your next backyard play date!
How do you and your dog enjoy the sunshine together? This is the perfect time of year for enjoying outdoor activities with your pet and making memories that will last a lifetime. Get outside and have some fun!