02.05.2016 | 12:17 pm
Love is in the air with the hearts and balloons of Valentine's Day quickly followed by Love Your Pet Day on Feb. 20. Of course, if you're like many pet lovers, you'll probably buy your pet a "little something" for Valentine's Day. After all, pet lovers will spend more than $800 million on their fur-kids for the heart-themed holiday. It looks like February is the perfect opportunity to spoil your four legged loves…just a little more. Why not plan a special date? After all, it's your time your pet wants most.
You can use our "personality" test to plan a few outings with your fur-kids.
If You Have a Sociable Pup
Why not plan a trip to a nearby dog park? An hour or two of puppy fun will leave your pup tired and you know what they say about a tired puppy.
Plan a play-date – Plan to meet up with a friend who has another puppy similar in energy and temperament. You can meet in a fenced in yard or the dog park.
Grooming appointment – After an exciting play-date, your dog will likely need a bath.
If You Have an Mellow (or Senior) Adult Dog
Your older dog may prefer a one on one walk with you. Do you have a favorite location? Maybe a nearby hiking trail or even just a walk through town? Why not spend the morning or afternoon there?
Spa day – Every dog loves the clean feeling after a bath. Some areas even have mobile grooming now where they'll come to your house and conduct the grooming session right outside in their vehicle. This is perfect for pups who don't enjoy the noise associated with grooming salons.
Favorite treats – are always appreciated.
If You Have a Cat
New toys! Cats like games too. Spend a few minutes waving around a laser pointer or a string tied to stick. Maybe even catnip…
New collar with a charm or an updated identification tag. Some cats love to wander outside, you want to make sure they can be easily returned to you if they were to go missing.
Salmon based? Chicken based? Which is your cat's favorite treat?
If you're anything like us, you spoil your pets every chance you get. Love Your Pet Day gives you another excuse, not that you need one! How will you spend it?
02.05.2016 | 11:26 am
Dear Holistic Select Consumer Loyalty Program Members,
We are contacting you to let you know that as of June 1, 2016 we will no longer offer the Buy 12, Get 1 FREE Consumer Loyalty Mail-In Program. We will not be able to accept any UPC submissions after June 1, 2016.
Although the Mail-In Program is being discontinued, we will still offer a Buy 12, Get 1 FREE Frequent Buyer program through Holistic Select retailers. A full list of participating retailers is available on our website:  Holisticselect.com/FrequentBuyer Visit a store to ask how you can get started today!
If you would like more information on the new program, or need help finding a store in your area, please call our Consumer Affairs team at 1-800-225-0904.
Thank you for being a loyal Holistic Select customer.
Your Friends at Holistic Select Pet Food
01.11.2016 | 12:48 pm
Happy New Year! Did you make New Year's resolutions? Are you still committed to them? One resolution that's easy to stick with is feeding your pets a healthy diet.
After all, you know that what you eat (or what your pet eats) is critical to health. Good nutrition can reduce inflammation that causes painful arthritis and chronic diseases plus, it can improve your pet's coat and help heal skin conditions.
It's in the name of good nutrition that Holistic Select carefully creates recipes filled with real, honest, good for you foods including plenty of fruits and veggies. Some of our recipes even include superfoods like kelp and pomegranates. These nutrient powerhouse foods are packed with antioxidants which boost your pet's immunity.
Here's a list of the fruits and veggies that make Holistic Select foods so healthy and tasty.
Alfalfa – Helps your pet absorb protein.
Apples – Packed with fiber to help keep your pet full. Plus they have beta-carotene (an antioxidant) and Vitamin C to boost your pet's immunity.
Beet pulp – A fiber-rich ingredient containing prebiotics to help your pet maintain healthy gut bacteria (probiotics.)
Blueberries — Vitamins A & C, antioxidants and potassium.
Carrots – Lots of beta-carotene.
Cranberries – Anti-oxidant and important for keeping a healthy urinary tract
Cranberry Powder—This is a dehydrated form of the plan and it's full of Vitamin C. Since there's little water in the dehydrated version, it's very nutrient dense so your pet gets even more of the good stuff!
Kelp – Kelp is a superfood and a natural source of 60 nutrients. It also helps your pet have a heathy skin and coat. Kelp also helps keep the digestive system running smoothly.
Papaya – This tropical fruit is packed with antioxidants and vitamins. It promotes eye health, joint function and a healthy intestine tract.
Peas – Did you know peas are rich in protein and fiber? They are! They also taste delicious!
Pomegranate – A superfood packed with antioxidants to keep your pet's immune system strong.
Potatoes – Have zinc, copper and B vitamins among other nutrients.
Pumpkin – Known to be easy on the tummy. Plus, it's filled with Vitamin A, Beta-Carotene and potassium.
Tomato Pomace – Pronounced "PA-Mus," this combination of tomato skins, pulp and crushed seeds will help keep your pet "regular" as it's a great source of soluble fiber. It also lowers cholesterol levels.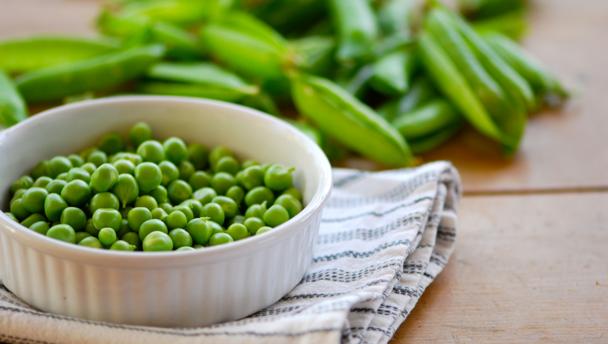 With such a selection, you can feel good about feeding your pet Holistic Select foods. Which recipes are your pet's favorites?
01.07.2016 | 01:10 pm
It's the start of a new year folks! We have all said 'farewell to 2015' and 'hello to 2016,' and likely everyone is working on their well thought out New Year's resolutions. But, what about our four-legged friends? Improving your dog's health, and life in general, should be just as much of a priority as improving your own. And you know what the beauty of that is? There are some changes that you can make to your daily routine that will help to improve both your health and your dog's health simultaneously. Let's talk about some ways that you can improve your dog's health (and maybe even your own) in 2016!
Schedule daily walks with your dog.
Daily walks are a huge part of your dog's life that greatly effects and benefits their health, and you know who else can benefit from going on daily walks? Daily walks are a great way to stimulate your dog mentally and physically, both of which are equally important to whole body health.
Put your dog on a schedule.
It may be hard to believe, but your dog actually craves being on a daily schedule. Considering we are unable to communicate with our dogs with words, keeping them on a daily schedule actually provides them with a sense of security. Dogs are super smart and once they are put on a schedule, they know exactly and sometimes down to the minute, when to expect certain things. Again, do you know who else benefits from a daily schedule? You guessed it! Daily schedules can be beneficial for both you and your dog to help with consistency. Start by waking up each day at the same time and immediately taking your dog out for a walk. You will be amazed to find that your dog will remember that morning walk, even when you forget and sleep in – Has anyone seen Max? Oh, he's sitting by the door waiting to be taken out for his walk!
Make necessary changes to your dog's diet.
Are you feeding your dog a complete and healthy diet that is formulated for their needs? There are so many dog food brands out there that aren't designed with your pet's best health in mind. A dog's diet greatly effects the quality and longevity of their life. Choosing a food that is formulated with your dog's health in mind will leave you rest assured that your dog is getting the most from their meals. Foods like Holistic Select, that are complete with probiotics and digestive enzymes to ensure maximum nutrient absorption for whole body health and regularity are a great choice for your dog. As always, consult with your veterinarian first before making any significant changes to your pet's diet.
Don't forget to take your dog for their annual check-up at the veterinarian's office.
It is extremely important to keep up with your dog's annual visits to the vet's office. After all, the only way that you can improve your dog's health is to know what needs to be improved. There are so many health issues that can go under the radar and can only be caught by certain tests performed by the vet at their annual health check. If you don't already have your appointment for 2016, call your veterinarian today!
Stimulate your dog's brain with new activities.
Mental stimulation plays a big role in keeping your dog healthy. A dog who lacks the proper amount of mental stimulation can become destructive – both to themselves and their owner. When a dog experiences a lack of mental stimulation, they can develop habits such as obsessive licking that can lead to hotspots as well as aggressive and destructive behavior, such as chewing on household items.
Are you ready to start improving your dog's health in 2016? We hope that these tips will help both you and your dog make the coming year your best one yet! Happy New Year, everyone!
12.21.2015 | 02:55 pm
The holiday's just wouldn't be the same without a couple of key ingredients – turkey and cranberry sauce. For some, it's the best part of their meal – so, why should our pets have to miss out on the turkey and cranberry goodness? Well, they don't! Turkey and cranberry can actually have health benefits for your pet if prepared the right way. Let's talk about how your pets can safely enjoy these tasty ingredients and how your pet's health can benefit. You should always consult with your pet's veterinarian before adding any new ingredients to your pet's diet.
The Benefits of Cranberry for Your Pet
Dogs and cats sometimes suffer similar ailments as humans. With that in mind, some of the same remedies that humans use will work for dogs and cats as well. Raw cranberries contain vitamin C, manganese and other essential micronutrients that can help your pet dog or cat. These types of nutrients can help with your pet's vision, immunity, digestion and more.
Cranberry extract can help prevent plaque build-up on your dog or cat's teeth, which can help prevent tooth decay.
The chemicals in cranberries can help to slow down and improve age-related declines in memory, balance and coordination in your pet dog or cat. This can help lengthen your pet's quality of life and keep their brain activity healthy.
The antioxidants in cranberries can help your dog or cat's eyes and prevent eye diseases, such as macular degeneration, which can eventually lead to vision loss or blindness.
Cranberries can also be beneficial to your pet's cardiovascular system – helping blood vessels to relax, dilate and lower blood pressure.
Dogs and cats can be prone to infections in their kidneys, bladder and urinary tract. Cranberries can be helpful in maintaining a healthy urinary tract, which is beneficial to their kidneys and bladder. Incorporating cranberries into your pet's diet on a regular basis can prevent the bacteria that causes infections in these areas.
Always consult with your pet's veterinarian before adding cranberry to their diet. Holistic Select offers a variety of recipes, as well as snacks and treats that include a healthy amount of cranberry.
The Benefits of Turkey for Your Pet
Turkey is another ingredient that, when safely incorporated into your pet's diet, can be beneficial to their health. Turkey can provide health benefits that some other meats cannot and it's a good option to add variety to your pet's diet.
Turkey contains a higher amount of selenium, which is a mineral that can be somewhat difficult for dogs or cats to obtain otherwise.
Selenium can reduce the chances of certain forms of cancer, improve overall long term joint health, keep skin and coat healthy and boost the immune system.
Turkey contains a higher amount of zinc than other meats, and is a mineral that has a large impact on your pet's skin. Zinc can improve the quality of your pet's skin and coat.
Turkey contains a higher amount of iron than other white meats. Iron helps with the transport of oxygen through the blood and is essential to your pet's health – especially high energy dogs.
Turkey tends to be a slightly leaner meat overall when compared to chicken.
When feeding turkey meat to your pet, it is important that the meat be completely cooked and never raw. Also, you should never give your pet a cooked turkey bone for chewing – once they are cooked the bone becomes very brittle and can be harmful to ingest. Once again, Holistic Select offers many different turkey based recipes for your pet and it's always a good idea to consult with your pet's veterinarian before making significant changes to their diet.
Discover the benefits of incorporating turkey and cranberry into your pet's diet and let them enjoy the holiday's most popular and tasty ingredients! Has your pet already discovered the tasty benefits? We want to hear about it!
12.21.2015 | 02:39 pm
Are you the type of person who writes down what you want to accomplish in the coming year? Or, maybe you have a rough idea in your head.  Either way, why not set some New Year's Resolutions for 2016 for you and your pets? Have some fun and deepen your bond for your best year ever!
1.) Get in Shape – You probably know the biggest New Year's Resolution for people is weight loss. But did you know over 50% of dogs are overweight? Why not make getting in shape a goal for both of you?
Across the country there are pet friendly fitness classes cropping up so you can both get exercise. There's K9 Fit Club in several states across the country where you use your dog for resistance. Small dogs work great for bicep curls!
Or, you can always go to the tried and true – running or power walking is low-tech. Just be sure to bundle both of you up if you live in a cold part of the country. And remember to start out slow and work your way up to those half-marathons. It doesn't do you any good if you get injured.
2.) Measure Your Food (and your pet's) – There are feeding guidelines on your Holistic Select pet food bags or cans that relate to your pet's age, size and exercise levels.
It's a good idea to feed your pets at specific times, twice a day the recommended amount of food. Free feeding (leaving food out all the time) packs on the pounds.
3.) Have Fun — Nothing makes your pet happier than spending time with you. Whether you're playing laser tag with your kitty or taking your dog kayaking, spend more time with your pet engaging in activities. This deepens your bond which releases feel good endorphin's that reduce stress and anxiety. Plus, it's fun!
4.) Book a Dog Trainer – Do you want your pet to sit 'n greet instead of leap n' greet? Maybe you'd like to curb frequent barking. Most people don't realize how easily a couple of dog training sessions can help their dog go from "good" to "great." It will reduce your stress by miles. To find a reputable dog trainer, ask your friends and veterinarian.
5.) Be Therapeutic – Some dogs have the perfect dispositions (and hidden skill sets) to be therapy dogs. If you've got the time and inclination, and a patient pooch, you may be able to train yours to help the sick and elderly. To start, your dog needs to pass the Canine Good Citizen Test.
6.) See Your Vet – Has it been more than a year since your pet got a check-up? Preventive care can save you thousands when it comes to health care. Even if your pet doesn't "act sick," your vet knows what to look for to prevent small problems from becoming large problems. So schedule that check up!
7.) Pay Attention to the Teeth – You brush your teeth at least twice a day and see your dentist for regular check up's. Doesn't it make sense that your pets require regular dental care? Brush their teeth and feed cranberries or treats with cranberry to help prevent tooth decay. Cranberries have a special property that helps reduce tooth decay.
There you are 7 New Year's Resolutions for you and your pet. Put these into action and keep them up all year and you and your pet will have fun, form a stronger bond and get healthy together.
What New Year's Resolutions would you add?
12.07.2015 | 11:14 am
It's no secret that the winter months can wreak havoc on our skin and the same goes for our four-legged friends. Humidity is low, the outside air is cold and windy (in some parts of the country), and dogs are going in and out of cold to warm weather and back again. Without the appropriate care during these wintry conditions, your dog's skin and coat can suffer and skin conditions can even develop. So, how can you help to protect your dog's skin during the winter months? We've got some tips for you.
Limit the amount of baths you give your dog and use a moisturizing shampoo.
Shampoo baths can be hard on your dog's skin anytime of the year, so during the winter months it won't hurt to limit bath time to only when completely necessary. A lot of times a simple water bath will suffice, rather than lathering your dog up with shampoo. However, you should invest in a good moisturizing shampoo to use during the winter months to help prevent any problems with your dog's skin or coat.
Your dog's diet plays a huge role in the condition of their skin and coat.
Feeding your dog a healthy diet year round can help your dog enter into the winter months with healthy skin and a nourished coat, which can help to prevent your dog from falling victim to the havoc of frigid weather. If you already know that your dog has sensitive skin and is susceptible to problems, you should consider feeding them a recipe that is designed specifically to nourish their skin and coat. Holistic Select carries many recipes that are complete with ingredients to improve skin & coat.
Use an air humidifier near your dog's bed at night.
While you cannot control the outside temperatures, and you cannot keep your dog indoors all the time – after all, she has to go outside to relieve herself – you can maximize your indoor air with humidifiers and fans to keep the air circulating so that allergens are not collecting in the air and carpets. To keep everyone comfortable, both pets and people, avoid as much as possible using room deodorizers, scents, or carpet and furniture cleaning products, as these products can be hazardous to sensitive skin.
Consult with your veterinarian if you notice symptoms of a possible skin condition.
Cold weather isn't the only culprit that can cause your dog to experience skin irritation. Other potential causes of skin conditions can come from sources such as parasites, underlying health issues like kidney or liver problems, or hormonal or nutritional imbalances. If you notice that your dog is scratching excessively and is obviously experiencing discomfort, you will need to have him examined by a veterinarian so that more serious health issues can be ruled out.
Don't leave your dog or cat outside in the cold weather for extended periods of time.
Whether or not your pet is prone to sensitive or dry skin during the winter months, no dog or cat should be left outside in extreme cold weather conditions. It is important to take your dog out and give him the exercise that he needs during the colder months, but you shouldn't leave him out in the cold during frigid weather.
Brush your dog's coat on a regular basis.
Using a soft brush on your dog's hair coat will help to stimulate the hair follicles and natural oil glands in the skin, and remove any patches of skin as you brush across the surface. Removing the dead skin cells and loose hair from the coat will allow the skin a chance to repair itself naturally.
We hope that you and your pets enjoy the holiday season and you both stay warm and healthy this winter!
12.04.2015 | 12:27 pm
How much attention are you paying to the ingredients that are in your pet's food? If you aren't paying much attention at all, your dog could be missing out on the health benefits of a diet that is full of nourishing ingredients. Once you start to do the research you will discover that there are so many different ingredients out there that can make a big difference in your pet's health. Today we are doing some of the research for you and putting the spotlight on the benefits of cranberry for your pet. Yep, you read that right – cranberry. Let's talk about some reasons why you should consider adding cranberry to your pet's diet.
The Benefits of Cranberry for Your Pet
Who would've ever thought that cranberry would have health benefits for their pets? Well, in this case cranberry has a lot of the same health benefits for pets as it does for humans. Raw cranberries contain vitamin C, manganese and other essential micronutrients that can help your pet in many different ways, such as vision, immunity, digestion and more.
Oral Health
Cranberry extract can help prevent plaque build-up on your dog or cat's teeth, which can help prevent tooth decay. Plaque is the accumulation of bacteria on the surface of their teeth, which can cause loss of teeth, poor appetite and eventual bacterial infections in the bloodstream. Cranberries to the rescue!
Age-Related Health
The chemicals in cranberries can help to slow down and improve age-related declines in memory, balance and coordination in your dog or cat. This can help lengthen your pet's quality of life and keep their brain activity healthy.
Vision and Eye Health
The antioxidants in cranberries can help your dog or cat's eyes and prevent eye diseases such as macular degeneration, which can eventually lead to vision loss or blindness.
Heart Health
Cranberries can also be beneficial to your pet's cardiovascular system – helping blood vessels to relax, dilate and lower blood pressure. Did you know that your pet could suffer from high blood pressure?
Kidney/Urinary Tract Health
Dogs and cats can be just as prone to infections in their kidneys, bladder and urinary tract as humans. Cranberries can be helpful in maintaining a healthy urinary tract, which is beneficial to their kidneys and bladder. This is probably one of the biggest health benefits of adding cranberry to your pet's diet – helping to block out the bacteria that causes infections in these areas.
When it comes to these types of kidney and urinary tract infections, prevention is extremely important because if your dog or cats gets an infection once, it is likely to keep coming back.
If your dog or cat shows signs of pain while urinating or frequent urinating, you should definitely consider adding cranberry to their diet as well as consulting your veterinarian.
Ways to Add Cranberry to Your Pet's Diet
So, you've decided to give this whole cranberry thing a try and start adding it to your pet's diet. But, how? Well, there are many ways that you can do this.
Find a natural supplement that contains cranberry powder, but always consult with your vet regarding proper amounts and dosage.
Add fresh or frozen cranberries to their food bowl – easy as that, right? Well, that all depends on whether or not your pet will actually eat them.
What is it with dogs and loving ice cubes? In this case it can be helpful! Freeze cranberries in ice cubes and give it to your pet as a treat!
Cranberry is an ingredient that Holistic Select knows well – check out the various recipes that they have to offer.
11.12.2015 | 01:45 pm
November is the month for giving thanks, right? Right. While going through your list of reasons to be thankful this holiday season, we're guessing that your four-legged friends score a pretty high ranking, as they undoubtedly should! Where would we be without the love of our furry friends? So, we know that all of the animal lovers out there are thankful for their pets this year, but let's talk about why – why are you thankful for your pet?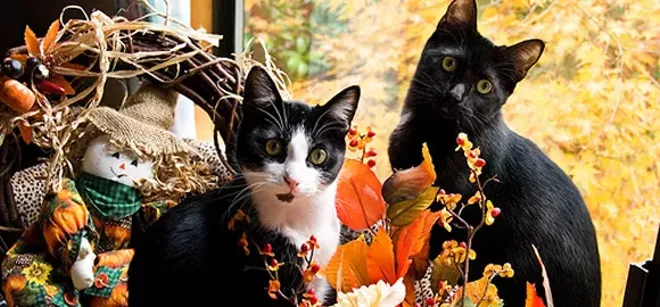 1. Who else will ALWAYS be there to happily greet you after a long day of work?
Regardless of how long or stressful your day at work may have been, you know that when you get home you will instantly have a reason to smile. Your dog will be there wagging his tail joyously like it's the best day of his life. Your cat may take a little longer to make an appearance, true to form, but will let you know how much you've been missed, no less. There is no better way to come home.
2. Who else won't judge you for watching hours of mindless television?
As long as your pet has the best seat in the house (on the couch, as close to you as possible), they don't really care what you're watching. Mind numbing reality television? Go ahead. Shameless daytime soap operas? No problem. Your pet is just happy to be spending some quality time with you, regardless of how lame your television habits are.
3. Who else will love you unconditionally?
Let's be honest – even your mom may have a hard time loving you some days. Humans just aren't capable of offering the same kind of love that our pets can. It is a love unlike any other form of love, and if you have experienced it, you are most definitely thankful for it.
4. Who else will be your rainy day movie marathon partner?
OK, so a lot of people like rainy day movie marathons. But you can rest assured that no one is happier to indulge with you than your pet. An entire day of quiet, uninterrupted time with you on the couch? I can hear your cat purring from here!
5. Who else can motivate you to go on your daily walk or run?
Even the best workout partner may have a day that they say, "You know what? Let's take the day off and rest today." Not your dog, though. Dogs know when it's time to go out for their walk and they aren't going to let you forget it. They may sit and stare at you with sad eyes or sit at the front door and whimper until you take action – one way or another, they will find a way to get you in your tennis shoes.
6. Who else will never turn down riding shotgun – even on the most boring of trips?
This one is mostly true for all you dog lovers out there who know that dogs can serve as life's best road trip passengers – even if it's just a quick trip to the store. Most dogs love the chance to hop in the front seat and join you on any and all adventures, no matter how small. All it takes is the jingling of car keys or a simple "Who wants to go for a ride?" and your dog will likely beat you to the car!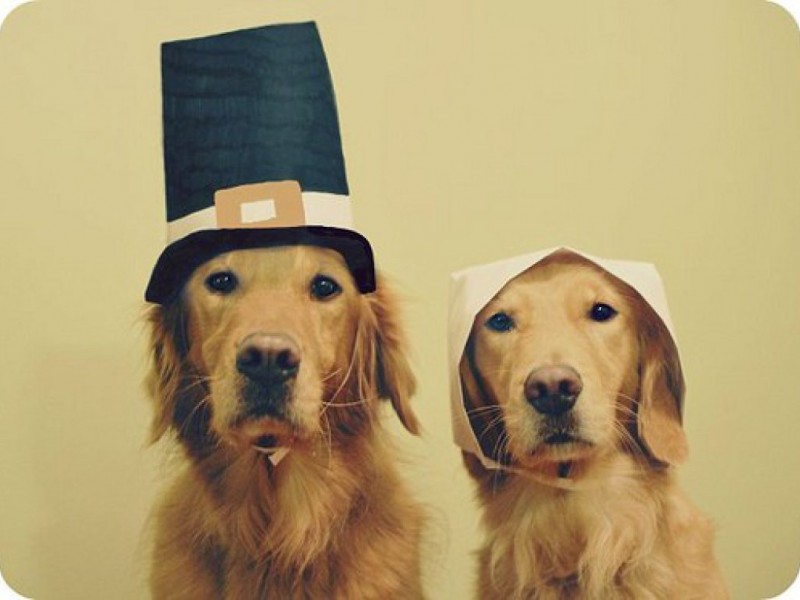 What better time to celebrate our four-legged friends for all of the joy that they bring to our lives. We could think of a million more reasons to be thankful for the pets in our lives, and we would love to hear some of yours! Why are you thankful for your pet?
10.26.2015 | 05:26 pm
The month of October is finally here! And you know what that means – PUMPKIN EVERYTHING. Throughout this month there will indeed be no shortage of pumpkin flavored food and drink, pumpkin scented homes and offices and porches all around the country adorned pumpkins carved to perfection. Something pumpkin related that you may not be aware of though is that pumpkin is an ingredient that can have ample health benefits for your pets, especially dogs and cats. Pumpkin is a prominent ingredient in most Holistic Select dry and canned recipes.
Health Benefits of Feeding Pumpkin to Your Pet
Digestive Health: Pumpkin is a fabulous source of fiber for our furry friends. Pureed organic pumpkin (with no added sugar or spice) can help dogs and cats with both constipation and diarrhea. Adding a tablespoon or two to their regular meal is known to help keep them regular and can also help dogs and cats with indigestion or upset stomachs. It is typically easier to introduce pumpkin into your dog's diet, as cats can be pickier about what they will eat. October is a great month to start introducing this ingredient into your pet's diet and watch as they reap the benefits. Note: The amount of pumpkin to be added to your pet's food is dependent on the size of your pet. Consult with your veterinarian regarding the appropriate amount for your pet.
Urinary Health: Pumpkin can also be beneficial to your pet's urinary health. For starters, pumpkin seeds are high in essential fatty acids and antioxidants, which are good for overall healthy skin and fur. In addition, the oils in pumpkin flesh and seeds are believed to support urinary health and are an excellent source of Vitamin A, beta-carotene, potassium and iron. There is also research to support that the ingredients in pumpkin may even reduce the likelihood that your pet will develop cancer.
Weight Loss: Pumpkin can also be used to aid in weight loss for your pet. If your pet is struggling with weight issues, you can try reducing a portion of their food and replace it with the same portion of canned organic pumpkin. This will help your pet to feel just as full, and they may even thank you for the added flavor.
How to Prepare Pumpkin for Your Pet
The truth is, both raw and cooked pumpkin is safe for your pet. The question is, what does your pet prefer? The key is to experiment and determine what your pet prefers. If you pet has any serious health conditions, it is important to consult with your veterinarian before introducing pumpkin into their diet. Here are some other things to keep in mind before introducing pumpkin into your pet's diet.
The seeds and flesh of fresh, raw pumpkins is completely safe provided the pumpkin is indeed FRESH.
Pumpkins and their parts tend to rot quickly. Only the freshest pumpkin ingredients should be fed to your pet.
If you choose to go the route of canned pumpkin, make sure that it is organic pumpkin. Pumpkin that has added sugar or other ingredients can be harmful to your pet.
Now that you know all of the benefits of pumpkin for your pet, what are you waiting for? Give your pet a special pumpkin treat today. We have to warn you though, you may have to bring your pet along to your next "Pumpkin Addicts" support group. Happy October, folks! Don't forget to check out our new Holistic Select Drizzles dog snacks in Pumpkin, Banana, and Yogurt.