11.12.2015 | 01:45 pm
November is the month for giving thanks, right? Right. While going through your list of reasons to be thankful this holiday season, we're guessing that your four-legged friends score a pretty high ranking, as they undoubtedly should! Where would we be without the love of our furry friends? So, we know that all of the animal lovers out there are thankful for their pets this year, but let's talk about why – why are you thankful for your pet?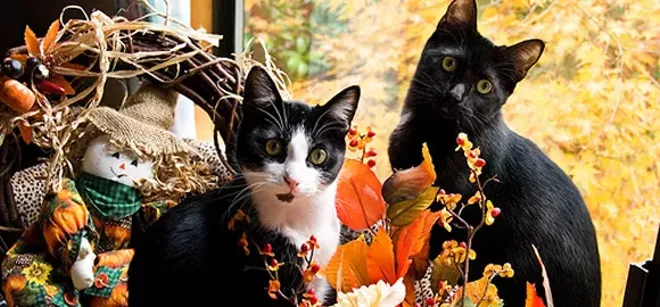 1. Who else will ALWAYS be there to happily greet you after a long day of work?
Regardless of how long or stressful your day at work may have been, you know that when you get home you will instantly have a reason to smile. Your dog will be there wagging his tail joyously like it's the best day of his life. Your cat may take a little longer to make an appearance, true to form, but will let you know how much you've been missed, no less. There is no better way to come home.
2. Who else won't judge you for watching hours of mindless television?
As long as your pet has the best seat in the house (on the couch, as close to you as possible), they don't really care what you're watching. Mind numbing reality television? Go ahead. Shameless daytime soap operas? No problem. Your pet is just happy to be spending some quality time with you, regardless of how lame your television habits are.
3. Who else will love you unconditionally?
Let's be honest – even your mom may have a hard time loving you some days. Humans just aren't capable of offering the same kind of love that our pets can. It is a love unlike any other form of love, and if you have experienced it, you are most definitely thankful for it.
4. Who else will be your rainy day movie marathon partner?
OK, so a lot of people like rainy day movie marathons. But you can rest assured that no one is happier to indulge with you than your pet. An entire day of quiet, uninterrupted time with you on the couch? I can hear your cat purring from here!
5. Who else can motivate you to go on your daily walk or run?
Even the best workout partner may have a day that they say, "You know what? Let's take the day off and rest today." Not your dog, though. Dogs know when it's time to go out for their walk and they aren't going to let you forget it. They may sit and stare at you with sad eyes or sit at the front door and whimper until you take action – one way or another, they will find a way to get you in your tennis shoes.
6. Who else will never turn down riding shotgun – even on the most boring of trips?
This one is mostly true for all you dog lovers out there who know that dogs can serve as life's best road trip passengers – even if it's just a quick trip to the store. Most dogs love the chance to hop in the front seat and join you on any and all adventures, no matter how small. All it takes is the jingling of car keys or a simple "Who wants to go for a ride?" and your dog will likely beat you to the car!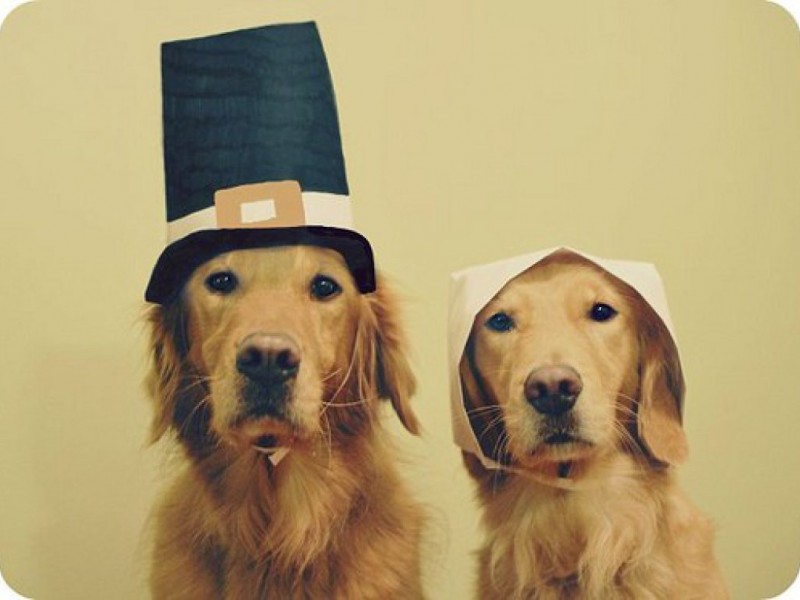 What better time to celebrate our four-legged friends for all of the joy that they bring to our lives. We could think of a million more reasons to be thankful for the pets in our lives, and we would love to hear some of yours! Why are you thankful for your pet?
10.26.2015 | 05:26 pm
The month of October is finally here! And you know what that means – PUMPKIN EVERYTHING. Throughout this month there will indeed be no shortage of pumpkin flavored food and drink, pumpkin scented homes and offices and porches all around the country adorned pumpkins carved to perfection. Something pumpkin related that you may not be aware of though is that pumpkin is an ingredient that can have ample health benefits for your pets, especially dogs and cats. Pumpkin is a prominent ingredient in most Holistic Select dry and canned recipes.
Health Benefits of Feeding Pumpkin to Your Pet
Digestive Health: Pumpkin is a fabulous source of fiber for our furry friends. Pureed organic pumpkin (with no added sugar or spice) can help dogs and cats with both constipation and diarrhea. Adding a tablespoon or two to their regular meal is known to help keep them regular and can also help dogs and cats with indigestion or upset stomachs. It is typically easier to introduce pumpkin into your dog's diet, as cats can be pickier about what they will eat. October is a great month to start introducing this ingredient into your pet's diet and watch as they reap the benefits. Note: The amount of pumpkin to be added to your pet's food is dependent on the size of your pet. Consult with your veterinarian regarding the appropriate amount for your pet.
Urinary Health: Pumpkin can also be beneficial to your pet's urinary health. For starters, pumpkin seeds are high in essential fatty acids and antioxidants, which are good for overall healthy skin and fur. In addition, the oils in pumpkin flesh and seeds are believed to support urinary health and are an excellent source of Vitamin A, beta-carotene, potassium and iron. There is also research to support that the ingredients in pumpkin may even reduce the likelihood that your pet will develop cancer.
Weight Loss: Pumpkin can also be used to aid in weight loss for your pet. If your pet is struggling with weight issues, you can try reducing a portion of their food and replace it with the same portion of canned organic pumpkin. This will help your pet to feel just as full, and they may even thank you for the added flavor.
How to Prepare Pumpkin for Your Pet
The truth is, both raw and cooked pumpkin is safe for your pet. The question is, what does your pet prefer? The key is to experiment and determine what your pet prefers. If you pet has any serious health conditions, it is important to consult with your veterinarian before introducing pumpkin into their diet. Here are some other things to keep in mind before introducing pumpkin into your pet's diet.
The seeds and flesh of fresh, raw pumpkins is completely safe provided the pumpkin is indeed FRESH.
Pumpkins and their parts tend to rot quickly. Only the freshest pumpkin ingredients should be fed to your pet.
If you choose to go the route of canned pumpkin, make sure that it is organic pumpkin. Pumpkin that has added sugar or other ingredients can be harmful to your pet.
Now that you know all of the benefits of pumpkin for your pet, what are you waiting for? Give your pet a special pumpkin treat today. We have to warn you though, you may have to bring your pet along to your next "Pumpkin Addicts" support group. Happy October, folks! Don't forget to check out our new Holistic Select Drizzles dog snacks in Pumpkin, Banana, and Yogurt.
10.19.2015 | 03:27 pm
Does your cat rule your life? If so, National Cat Day gives you a perfect excuse to spoil your cat even more! Go ahead and fill your Instagram with a photo shoot of your favorite kitty without shame. Of course, your kitty would like you to show appreciation in real life. For example, does your kitty like games? There are lots of ways you can help your feline stay mentally stimulated.
Laser pointer: This is an old favorite. Point the laser pointer at a spot on the floor and let it catch your cat's eye. Move it slowly across the floor and Fluffy will do her best stalking tiger impression. Once she's fully engaged, you can pick up the speed and eventually move the laser all over the room. If your kitty enjoys this, she'll get a good workout.
Special Snack: If your cat normally eats Holistic Select dry cat recipes, check out our natural grain-free canned recipes. They can be used as a complete and balanced meal or a special treat!
String on a stick: This classic cat toy requires you to tease Fluffy with the string or feathers and then, pull them away. By holding the stick, you maintain control (and can save your fingers from outstretched – and excited – claws.)
Catnip: Roughly 50% of cats feel the effects of catnip. That is to say, they smell the stuff and go into a wild state of ecstasy. If your cat is one of them, you may witness kitty rolling around on the floor as if in the throes of a delicious dream upon sniffing the natural herb.
Belly rubs: When your kitty stretches out and rolls over exposing the belly, she's asking for a belly rub. Give that kitty belly a rub. Beware that not all cats like this. You know your cat best.
Or, you could always get kitty a new collar and make sure she has an updated ID tag.
There are many ways to spoil your favorite feline. Of course, the real reason National Cat Day (October 29) exists is to encourage adoption. Pet adoption champion Colleen Paige started the day to remind people that the shelters are overcrowded with pets who need homes.
There's even a new trend you may have heard about: a cat café. What's a Cat Café?  Unlike taking your dog to lunch at a sidewalk café, a cat café is a way to introduce adoptable cats to diners. The idea is that if you take the cats out of the shelter environment and give them a safe place to play, they'll relax and their personalities will come out. Cat café's are popular in Japan and Germany and there are many in the works in the States. However, the U.S. health codes here have so far prevented them from opening – something about mixing cats and food – so while they're working out the details, if you want to adopt a kitty, the shelters are still your best option.
How will you celebrate National Cat Day?
10.19.2015 | 01:57 pm
It's that time of year again! Towns across America gather for pet parades and paper cut outs of cats with arched backs fill windows as decorations.  In other words it's almost Halloween. If your dog is the social sort, he will enjoy parading with other canines and probably won't even mind the costume. Before you start browsing the photos of doggie Dracula's and butterflies though, keep in mind your pet. Is your dog easy going and mellow? Or young and hyper?  The latter may try to chew anything you put on him.
3 Things to Consider When Choosing a Dog Costume for Halloween
Nothing constrictive – make sure the costume is big enough for your pet and won't bind or gag in an uncomfortable way.
If your pet isn't used to wearing clothes, let your pet smell his new costume for a couple of days before you want him to go out in public in it. Your dog may need time to warm up to it.
Do a practice session (or two). Put it on and walk around the house or up and down the street. You want to see if the costume stays in place or if you need to make adjustments. You could do a practice trick or treat run. Keeps your neighbors on their toes.
If your pet is absolutely not going to be happy in a costume, you might choose to settle for a Halloween themed leash and collar set. Hey, it's ok to be Fido.
What about your cat? It's a rare cat who'll allow herself to be the object of ridicule by letting you dress her. But if yours will, good for you. Dress her up and take lots of pictures.  Chances are, Fluffy will draw the line at walking in the pet parade with the dogs.
Are you staying home for Halloween?
Your pets may be less excited about Halloween than you. If you'll be greeting trick or treaters at home, it's a good idea to keep your pets in another room for their safety and your peace of mind. Frequent door opening and strangers in costume are not always the best mix with your pets. After all, they have no concept of what's happening. As always, you want to keep candy, burning candles and decorations out of the reach of curious pets.
Are you taking the dog out for Halloween?
Make sure to bring plenty of treats both to keep your pooch in line and for his new friends. Not only is everything more fun with treats, they also can help you keep your pet's attention. Have a back-up plan in case Fido doesn't cotton to the program as much as you wish he would.
How are you celebrating Halloween this year?
10.01.2015 | 07:44 pm
Do you have a dental check up every six months? Do you get your oil changed regularly? How long has it been since you've taken your cat to the vet? If it's more than a year, it's time for kitty to get a checkup.
Annual vet visits can uncover any potential problems — before they become serious. For example, regular veterinarian visits can uncover diabetes, thyroid problems and chronic kidney disease in the early stages so you have a better opportunity to manage it. Veterinarians say cats are 3-10 times more likely than dogs to develop chronic kidney disease and it's one of the leading causes of death for cats.
Of course, that's only one reason to visit your veterinarian every year.
A Typical Wellness Visit Includes:
Checking your cat for any unusual lumps
Comparing appearance and activity from the last visit (based on past notes)
Ensuring your pet is up to date on immunizations
Taking care of any blood work (this can catch potential problems before they become issues.)
All of this is important for your kitty's health. But, let me guess. Mr. Furry Paws isn't exactly waiting by the front door waiting for you to say the magic words…"want to go for a ride?" is he?
How do you get your cat to the vet?
How do you convince your feline friends that it's a good idea not to hide under the bed when you bring out the kitty carrier? Very carefully….Actually, you can use psychology on them. Just like Pavlov's dog learned to associate the ringing bell with food, you can help your cat associate the kitty carrier with good things. The key is patience.
Rather than bringing out the carrier 15 minutes before it's time to leave, put it out a few days before. Let it sit near the door you use. Leave the door to the carrier open and put tasty treats inside. If your cat likes toys add your cat's favorite toys. That will help to desensitize kitty to the carrier.
Practice makes perfect. Take kitty in the car more than once a year. Even if you just drive down the street and back, it's a way to help your kitty feel slightly calmer about the whole experience. Especially if you feed tasty treats all the way there and back (you may need assistance from a willing friend in this department.) Almost twice as many cats than dogs never visit the veterinarian. Don't let your cat be one of them! Schedule your appointment today.
08.12.2015 | 12:05 pm
Holistic health is becoming a more common approach in our world and our pets are no exception. What do people mean when they say 'holistic health' though? Well, holistic health is more of an approach to life and considering the mind and body as a whole when it comes to our health, rather than focusing on treating certain diseases or illnesses. The holistic approach is important for our pets because their overall health relies both on their mental and physical health. We are going to talk about how to master the holistic approach when caring for our pets.
4 Factors of Holistic Health for Your Pet
Adequate Diet:

Diet is probably one of the biggest factors of holistic health for your pet. What you choose to feed your pet greatly effects their overall health. A holistic diet is one that is packed full of natural, nutrient-dense ingredients without containing 'filler' ingredients that are useless and sometimes harmful to your pet's health.

Holistic Select

that offers a wide selection of products that will support your pet's digestive health and provide them with the proper nutrition. A holistic diet is typically one that is low in carbohydrates and either low-grain or completely grain free. Talk to your veterinarian before changing your pet's diet.. Supplements can also be a good addition to your pet's holistic diet, such as probuitics, fatty acids, and antioxidants.

Minimalistic Approach to Vaccinations

: Veterinarians that practice the holistic approach will often suggest that our pets are over-vaccinated and that it directly effects our pets' health. Here are some important things to know. The holistic approach certainly doesn't restrict your pet from receiving vaccinations. It only suggests testing their level of antibody protection before vaccinating too frequently when it may be unnecessary. A Titer Test can be given to determine your pet's level of antibody protection against certain viruses. For example, when it comes time for vaccinations each year, your veterinarian can use the Titer Test to determine which vaccinations are appropriate for your pet to receive, rather than blindly pumping them full of vaccinations that they may not need year after year, as studies have shown this can be harmful to your pet's overall health.

Fresh Air and Proper Exercise

: All pets require a certain level of exercise, but fresh air and exercise are especially important for dogs. Proper exercise has a direct effect on your dog's overall health, both mentally and physically. Neglecting to give your dog the proper exercise can result in problems such as obesity, digestive problems, depression, destructive behavior, anxiety, and aggressive behavior.

Holistic Medications & Treatment:

It is becoming more common for pet owners to utilize a combination of holistic and contemporary veterinary care for their pets. A veterinarian who specializes in holistic care can provide insight into alternative, more natural flea and tick and heartworm prevention.
6 Ways to Improve Your Pet's Holistic Health
Switch your pet to a holistic diet, such as Holistic Select, but talk to your veterinarian first about a proper diet plan and how to slowly introduce your pet to a new diet.
Create a daily exercise regimen for your pet and stick to the schedule as much as possible.
Ask your veterinarian about the Titer Test and avoid overly vaccinating your pet each year.
Consider more holistic measures for flea and tick and heartworm prevention, and explore holistic options before resorting to treatment for other illnesses or ailments.
Explore new activities with your pet – have you ever heard of 'Doga?' Well, it's yoga with your dog of course!
Talk to your veterinarian about any supplements that your pet may need and incorporate them into your pet's daily routine.
Is your pet ready to hop up on board the holistic train? We hope that you have found this information helpful in determining what holistic pet health care really is and how your pets can benefit from this approach. Happy National Holistic Pet Day, friends!
07.27.2015 | 10:50 am
What is a grain-free diet and is it right for your pet? Well, that's what we are here to talk about. With so many different brands and recipes out there for pet food, it can be overwhelming to try and find the perfect one for your pet. Our pets are just like us in the sense that no diet is perfect for everyone, so a grain-free diet isn't necessarily the right fit for all pets. However, for some pets it can prove to be very beneficial to their overall health. Let's break it down and find out what this grain-free diet is really all about.
What are the Benefits of a Grain-Free Diet?
It is always important to talk to your veterinarian to figure out what type of diet is recommended for your pet. If a grain-free diet is something that both you and your veterinarian agree is the right choice for your pet, it can benefit your pet in many ways.
Less is more. With a grain-free diet, your pet is likely to thrive on a smaller amount of food than with their previous diet. Grain-free pet food contains a lot of proteins and nutrient-dense ingredients that will leave your pet feeling energetic and satisfied and less likely to want to 'graze' all day long around the food bowl.
Improve the condition of your pet's skin and coat. Pets that may have intolerances or allergies to grains can benefit from a grain free diet. A grain free diet can help to decrease the itching and scratching that can be associated with allergies and intolerance's.
Improve digestion. For pets with sensitive stomachs, grain free diets can help support digestive health. The absence of grains and rice can help improve overall digestibility.
Is a Grain-Free Diet Right for my Pet?
There are some pets that can benefit from a grain-free diet more than others. Some of those pets include –
Pets with high energy levels. Grain-free diets are especially beneficial to pets and breeds that are known to have high energy levels due to the higher protein and fat levels along with additional nutrient-dense ingredients. Combined, these cater to a dog or cat that require enhanced energy sources.
Pets with allergies. It is common for some pets to develop an allergy to grains in their food, causing symptoms such as vomiting, bloating, stomach distress and itching and scratching. Your veterinarian can help to diagnose these allergies and a grain-free diet could be the answer to your pet's problems.
Making the Switch
If after consulting with your veterinarian, it is decided that a grain-free diet is the right choice for your pet, be sure to transition into a new diet properly. Transitioning your pet into a new diet is a slow process. New foods should be introduced in small amounts at first and increasing those amounts over the course of a full week at least.
Now that you have the low-down on what a grain-free diet is all about, talk to your veterinarian and decide if you should make the switch. Holistic Select offers a high-quality grain-free recipes for both cats and dogs that could be the perfect fit for your pet.